As some of you have noticed, Google is rolling out an update to Google Drive. Going forward, the application that manages the syncing part of Google Drive on your computer will be updated and called Drive File Stream (aimed at businesses) or Backup and Sync (aimed at consumers). I'll be focusing on the business offering in this article; Drive File Stream.
This is a required update from Google that will need to be installed for Google Drive to work. Support for the old version of Google Drive (referred to as Drive for Mac/PC) has ended and it will be shut down on March 12, 2018. As the end of the Drive for Mac/PC client draws near, I want to make note of some of the changes involved.
The Good
With Drive File Stream you can see all of the files in your Google Drive without having to download each one. You can also choose which files are available offline and stored locally on your computer.
The Bad
However, there are a couple of known issues with the update:
• Google Docs, Sheets, and Slides can't be duplicated from the desktop app and need to be managed from the Google Drive website; https://drive.google.com/. (This does not apply to Microsoft Word, Excel, or PowerPoint files.)
• Files in the newly released Team Drives can only be viewed through Drive File Stream and need to be modified through the Google Drive website; https://drive.google.com/.
These issues are not as bad as they sound since Google Docs and Sheets can only be opened from the web anyways. Team Drives are a relatively new development that have only been out for about a year, which means there is a good chance of limited-to-no usage throughout your organization. (Fingers crossed!)
Installation
Use this link to download the latest version of Drive File Stream if you have not been prompted to update already: https://support.google.com/drive/answer/7329379. Alternatively, you can use these direct links to download Drive File Stream for Windows: https://dl.google.com/drive-file-stream/googledrivefilestream.exe or macOS: https://dl.google.com/drive-file-stream/googledrivefilestream.dmg.
New Drive Location
Once you have finished updating to Drive File Stream, you will need to use the new file path to make sure files and folders stay in sync.
To find this, go to the Drive File Stream icon in your System Tray…

…and choose Open Google Drive Folder: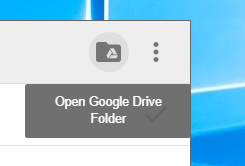 The new Google Drive folder should show "G:\My Drive\…" as the file path and will appear as a "hard drive" in This PC. You will want to update any of your shortcuts to point to the new Google Drive File Stream (G:) drive. If you were using Drive for Mac/PC on your computer before, you'll want to avoid using the old "C:\Users\%username%\Google Drive\…" folder as it will no longer sync. Once you see all of your files in Google Drive File Stream (G:), you should be able to delete the old folder or better yet, keep it as a backup.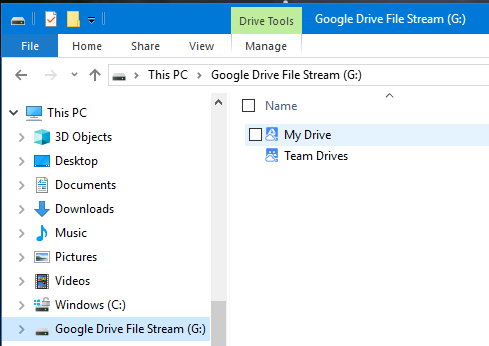 Also of note, Drive File Stream lets you see everything in your Google Drive folder by default, whether it is stored locally on your computer or available online. This helps free up space on your computer by downloading and storing what you use. To get around this you can right-click on any file or folder you want always available and choose, "Available offline".

Please note that downloading your entire Google Drive folder (or even a large portion) is a very bandwidth intensive task as it can be several hundred gigabytes in size. Unfortunately, there is no easy way for end users to throttle Drive File Stream from inside the app. However, the settings can be changed from the Windows registry or macOS defaults command: https://support.google.com/a/answer/7644837. Perhaps this will be added in the future, but for now, we will have to deal without it.
For further reading on how to use Google Drive and Drive File Stream, see the G Suite learning center: https://gsuite.google.com/learning-center/products/drive/#!/